[press release] 
FOUR CHILDREN'S ORIGINAL ARTWORK WILL APPEAR 
ON U.S. POSTAGE STAMPS ISSUED IN 2000 
Winners Selected From 120,000 Entries in U.S.
Postal Service's Stampin' The Future Global Project
WASHINGTON - The U.S. Postal Service today announced that original artwork designed by four creative American children will appear on new U.S. postage stamps next year (click pictures for a larger view).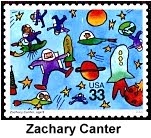 Zachary Canter, 10, of Kailua, Hawaii; Morgan Hill, 10, of Montclair, N.J.; Sarah Lipsey, 12, of Memphis, Tenn.; and Ashley Young, 12, of Sandy, Utah, competed in a global Postal Service project called Stampin' The Future.
Stampin' The Future sparked the creativity of students 8-12 years of age by asking them to illustrate in a stamp design their dreams, hopes and visions of the future.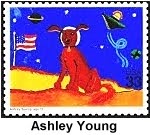 The four U.S. designs, along with winning designs created by children from around the globe, were unveiled August 22, 1999, at the Universal Postal Congress in Beijing, China. The congress is a regular meeting of the world's postal administrations.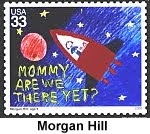 "I was very excited when I got the letter saying I was a winner," said Morgan. "I've told half my block and they think we should have a block party! I've called my grandparents and they were really happy." "We were studying space in school," said Ashley when asked how she came up with the idea for her winning design. "I thought about showing myself in space, but then I love animals so I decided on a dog."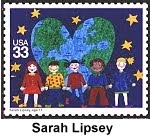 Some 50 million stamps featuring the artwork of Canter, Hill, Lipsey and Young will be issued next year as part of the World Kid's Congress at World Stamp Expo 2000 in Anaheim, Calif.
Also participating in Stampin' The Future are 27 international postal administrations, including Canada, China, Israel and France, which hosted stamp design competitions within their countries using the same rules and guidelines.
Out of 120,000 participants in the United States, a total of 110 schoolchildren were chosen as finalists. The four winners, selected from the 110 finalists, were recommended by members the Citizens' Stamp Advisory Committee. Final selection was made by the Postmaster General. The four U.S. winners will help dedicate the stamps bearing their designs at World Stamp Expo 2000.
---
Virtual Stamp Club Home Page