U.S. Election Stamp Hoax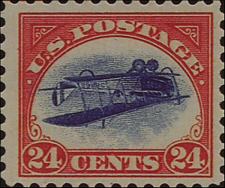 Right from the start, VSC members had their doubts about whether a Jenny Invert stamp apparently used to mail an absentee ballot was real.

Our first word came November 10th when VSC staffer Ian Billings in Britain spotted a story in Seattle that someone might have used a Sc. C3A Jenny Invert stamp for 24 cents postage in mailing an absentee ballot in Florida. (That sentence alone is enough to give you jet lag!)

In his original discussion title, Ian wondered if the stamp or replica might have been used as a protest about the election process.

Watch the story unfold here.

The American Philatelic Society has now certified it's a fake. Listen to our podcast here.

In messages 8 and 10, you'll find out that a Sc. 13 65¢ Zeppelin (worth a few hundred) could soon arrive in someone's mailbox, and why.

Then there's the Sc. 15 $2.60 Zeppelin that was purposely torn in half. Read about it in message 17 of that discussion. Today it would be worth $775 to $1200, depending on condition.

It's fairly easy these days to print your own fake Jenny Invert, thanks to advances in personal computers and color printers. Click here for a large image — then sit back and wait for a visit from the Postal Inspectors. It's illegal to forge U.S. postage stamps, even if it is hard to believe someone would really put a stamp worth $200,000 or more on an envelope.


---
Virtual Stamp Club Home Page