Retired CIA Agent Wins Jenny Invert
John Shedlock of Alta Loma, Calif., a retired CIA agent, won the Inverted Jenny offered by StampWants in a drawing January 12, 2008, at AmeriStamp Expo in Charlotte, N.C.

Shedlock is an air mail collector who entered just 150 times; almost 1 million entries were received. Shedlock and runner-up Michael Flanagan of Scottsdale, Ariz., were both present for the drawing by Miss New Jersey, Amy Polumbo.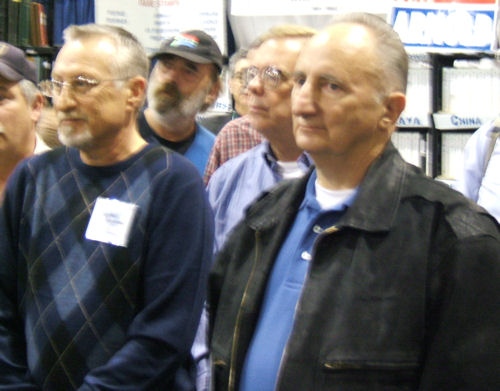 Finalists Michael Flanagan of Scottsdale, Arizona, and John Shedlock of Alta Loma, Calif., await the drawing. Both are air mail collectors.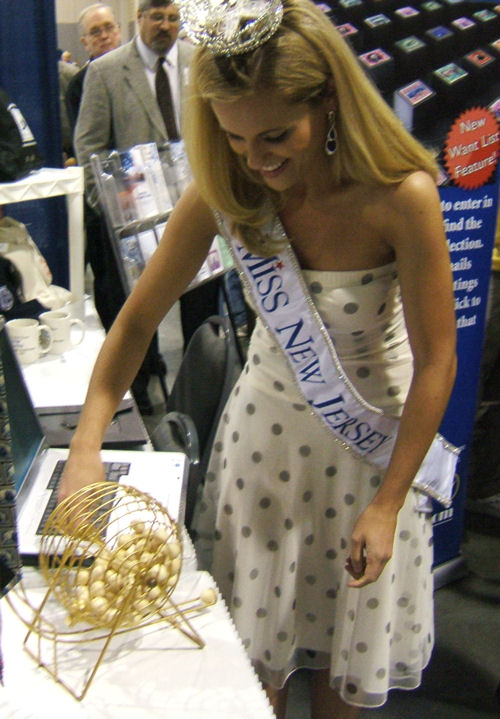 Miss New Jersey Amy Polumbo draws one of 74 numbered wooden balls. There are normally 75 wooden balls in the basket. One was removed to even the chances.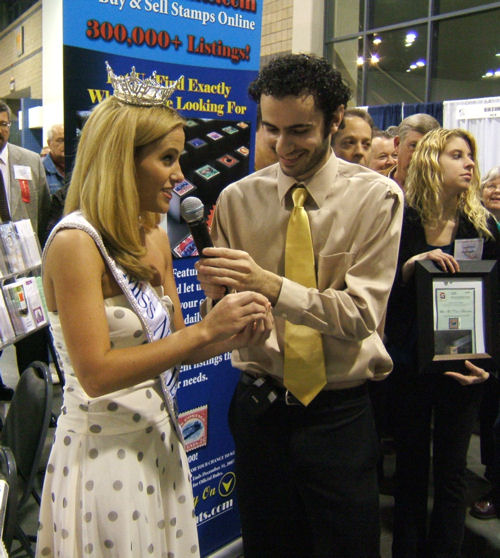 Polumbo and StampWants president Mark Rosenberg discover the number on the winning ball is I-22, an even number.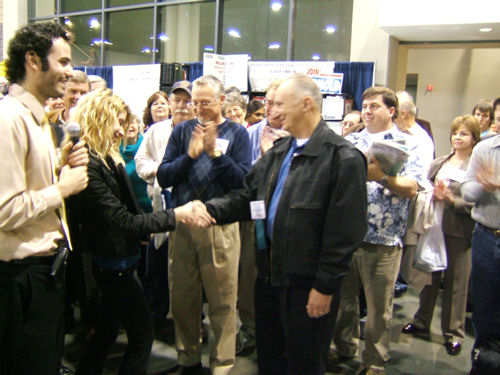 Winner John Shedlock is congratulated by StampWants office manager Amy Roman after an even number is drawn. At left is StampWants president Mark Rosenberg and in the center is runner-up Michael Flanagan.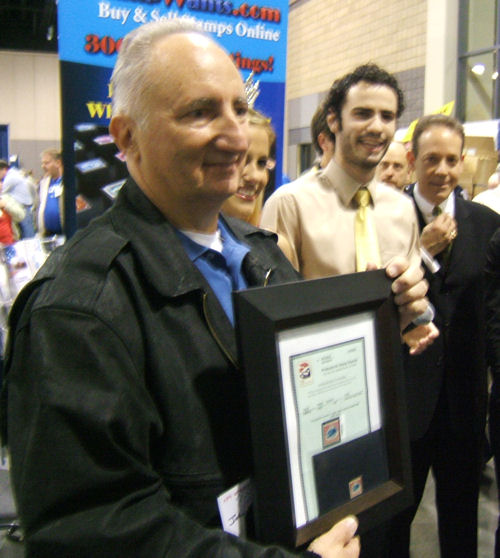 Shedlock holds the no-gum C3a Jenny Invert. StampWants co-owner Bob Prager, far right, said that following the high realizations for other, better C3a's in recent months, this stamp has a value of $400,000. Shedlock said his reaction was "shock and awe. It's really, really an honor," he told

The Virtual Stamp Club

.


Soon after he won, Shedlock went to the Hugh Wood Insurance booth to insure his Jenny Invert. He plans to keep the C3a at least a year. "It's part of history and I couldn't just turn around and sell it." Shedlock audio interview here.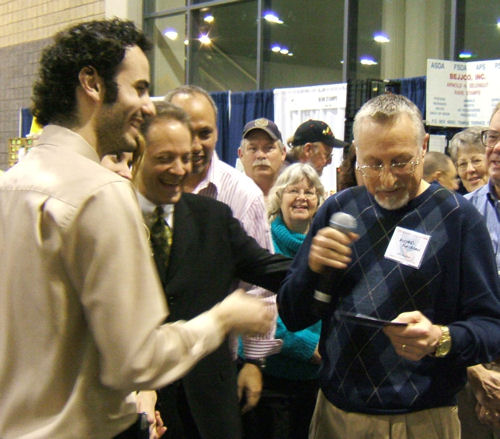 Flanagan didn't fare too badly: His consolation price was a mint set of the Zeppelins, worth about $1500. Flanagan said that if he had won the Jenny, he would have had to sell it to pay the taxes. The Zepps, however, are something he needed to complete his air mail collection. "You know, I came here without 'em. Now I got 'em." Flanagan audio interview here.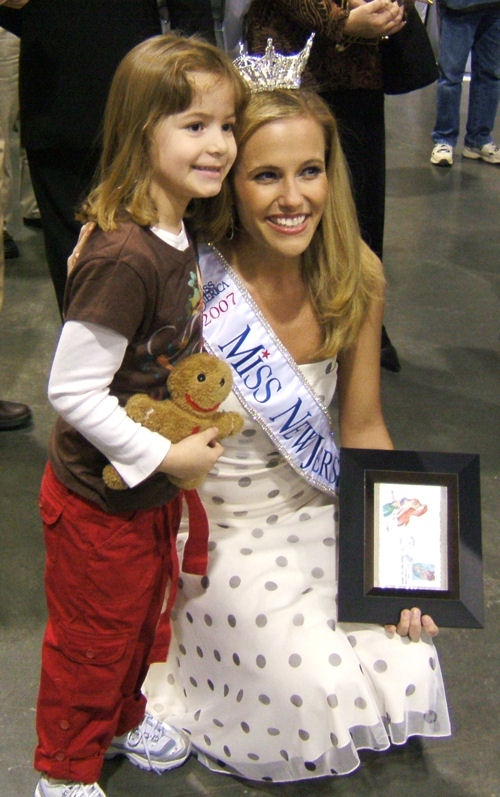 Polumbo, who has performed the Ariel part in a Disney World production of "Little Mermaid," was given a presentation plaque of an Ariel & Flounder (Disney: The Art of Celebration, 2005) first day cover. Later, she posed with a young fan.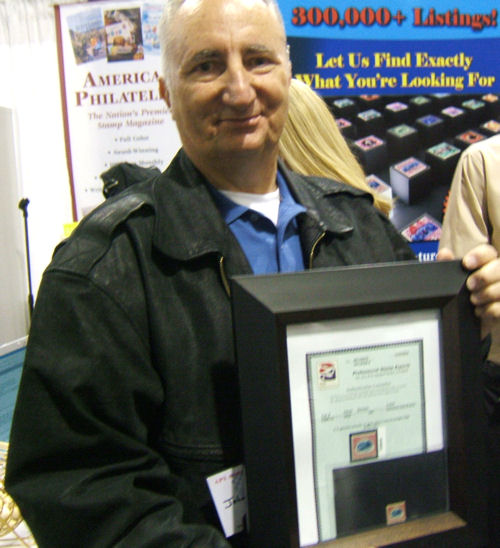 Another picture of John Shedlock holding his prize.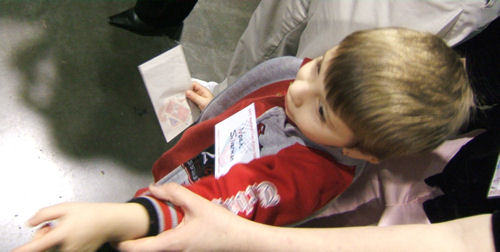 Budding stamp collector Noah Silverman is shown the Jenny Invert. (This is one of those photo opportunities where you literally almost stumble on it!)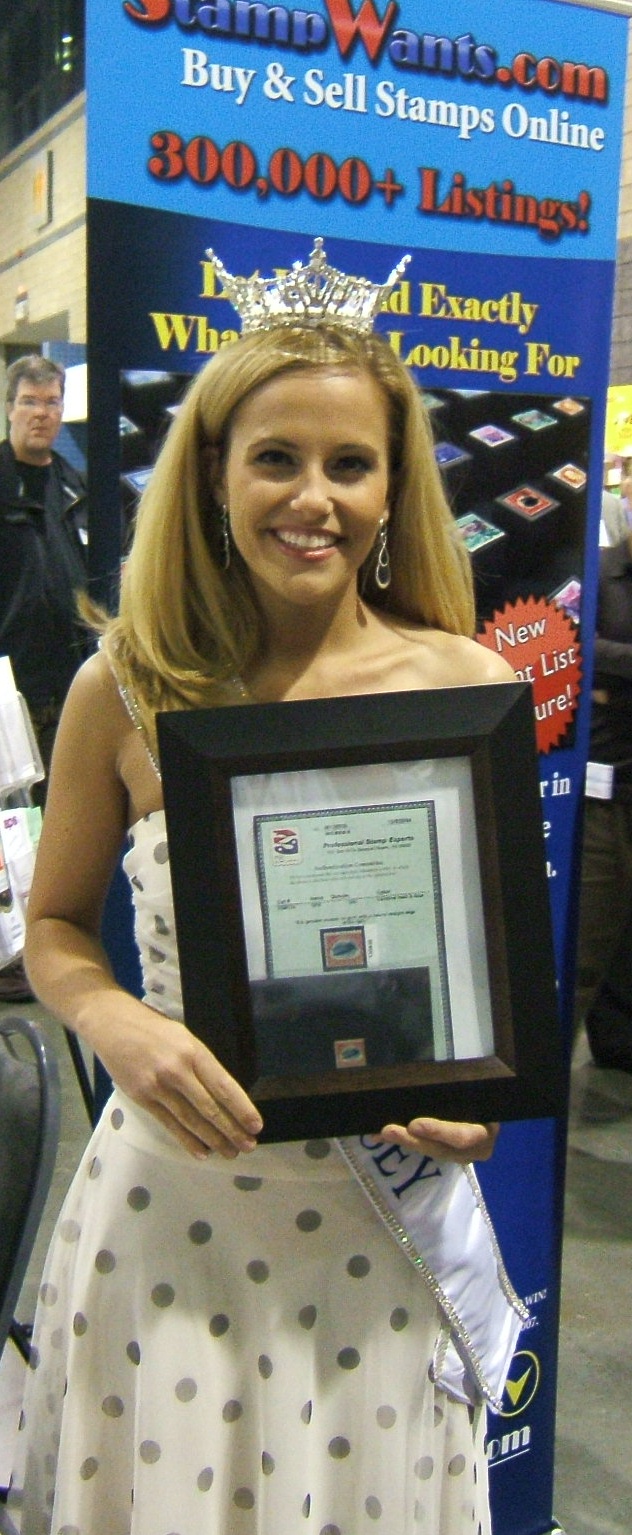 Miss New Jersey holds the Jenny Invert. (Sorry, no larger size available on this photo.)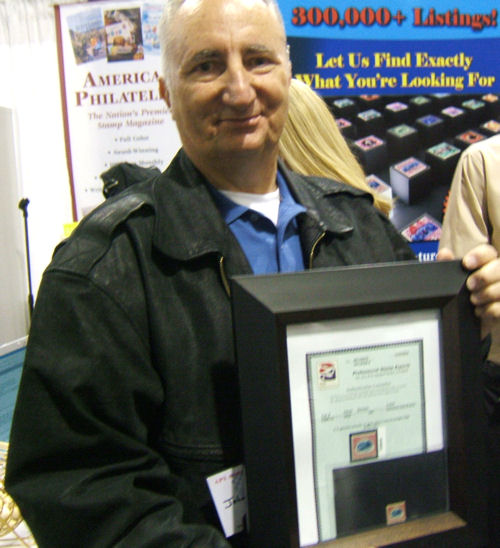 Another picture of John Shedlock holding his prize.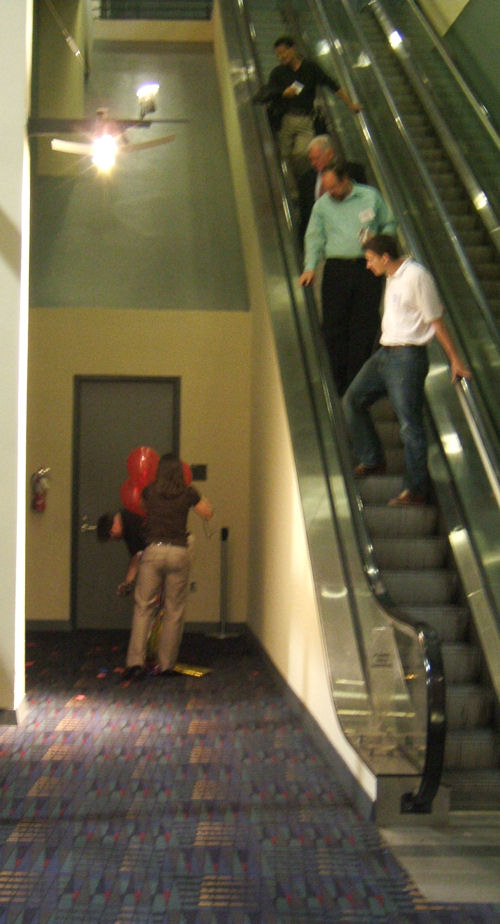 As mentioned earlier in this discussion, before the ceremony began, the convention center said helium-filled balloons were not allowed in an exhibition hall, and two workers took all StampWants' balloons out into the lobby and popped them. Stamp collectors coming down the escalator to the show couldn't believe their eyes (or ears).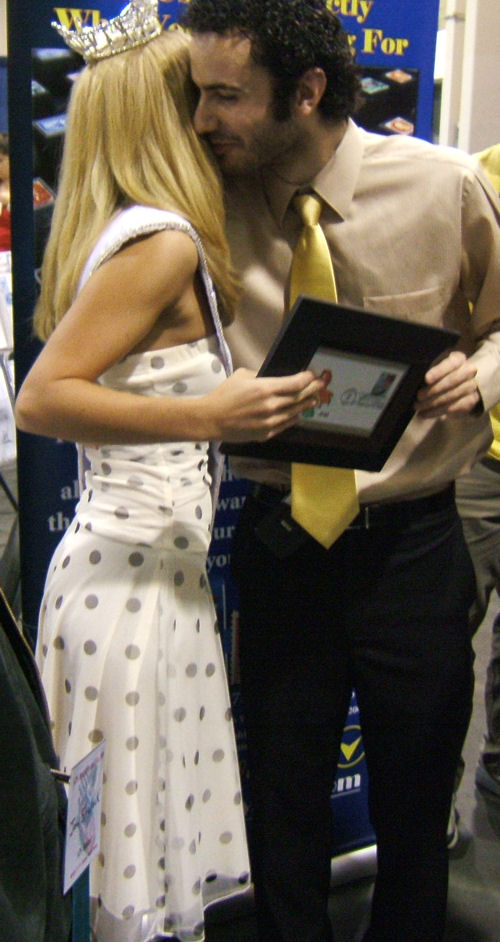 Hey, so John Shedlock got a copy of the Jenny Invert. So what? StampWants president Mark Rosenberg got a kiss from Miss New Jersey. (For you FDC fans, Amy is holding her prize, a framed FDC of the Little Mermaid stamp.)

And some tongue-in-cheek comments from our message board:

"It's just another CIA conspiracy like the 1610c." —andrews154

"And so begins another Urban Myth: The Jenny Conspiracy. 'While thousands waited - two knew. And one of them was a CIA agent.'" —coilz

"Soon after he won, Shedlock went to the Hugh Wood Insurance booth to insure his Jenny Invert." Wait a second - retired CIA agent Collectables Insurance Agency - Dan Walker's company Insured it with Hugh Wood There has got to be an Oliver Stone movie in here somewhere. —ChipG

Read more comments and add your own here.

All pictures and text ©2008 de Vries Philatelic Media.
---
Virtual Stamp Club Home Page