Jay Bigalke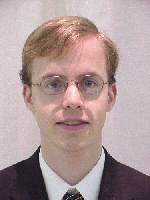 Jay Bigalke at AmeriStamp Expo 2003 in Biloxi

Jay Bigalke, a 2005 graduate of the University of Wisconsin-Madison and a member of The Virtual Stamp Club staff since 2001 (and the VSC itself since 1998), has joined Linn's Stamp News as an associate editor. Jay, who first burst on the philatelic scene as the self-styled "Future Postmaster General" with many "scoops" about upcoming U.S. issues, has a degree in retailing and journalism.

Considering all the stories he broke in the past seven years, and the fact that he paid most of his college room and board by selling his first day covers, he would seem well qualified in those fields.

"The goal of becoming PMG has not faded," he advised in our message board.

Besides compiling and maintaining the U.S. New Issues schedules since 2002 and posting numerous news updates, Jay also produced his own line of first day covers — called FPMG Cachets — and served as president of the American Ceremony Program Society. All of that, unfortunately, he has to give up as an employee of Amos Hobby Publishing.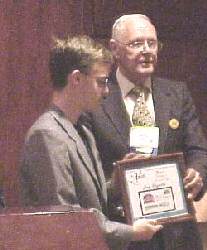 Jay Bigalke receives a cachetmaking award from American First Day Cover Society president Tom Foust at Americover 2002 in Oakbrook, Ill.

"It's wonderful news for all of us Linn's readers," said fellow cachetmaker Dave Bennett.

At a 2003 first day ceremony in Biloxi, Miss., at which Jay spoke as ACPS president, the master of ceremonies stopped "the Future Postmaster General" as he crossed the stage after his speech, and asked for Jay's autograph. "Hey, you never know," the MC said.

We know. We here at The Virtual Stamp Club are proud to say we "knew him when," and have no doubt we'll be hearing great things about him over the coming years, whether as a top official of the Postal Service, the editor or publisher of "The New York Times of Philately," or something entirely new.



---
Virtual Stamp Club Home Page