Never-Issued German Stamps Missing
Never-issued German stamps featuring Audrey Hepburn have disappeared from a safe at the German Finance Ministry.

The stamps were supposed to be issued in October 2001, but were not after one of the actress' sons withdrew permission.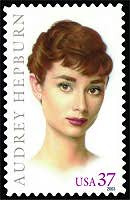 Hepburn's son liked the U.S. design, issued in 2003

---
The U.S. Postal Service worked with her older son, Sean Hepburn Ferrer, to make sure its 2003 design met with his approval. She also had a son 10 years later, Luca Dotti, from her second marriage.

In an interview with The Virtual Stamp Club in August 2002, USPS chief of stamp development Terry McCaffrey alluded to the problems with the German stamp.

All the stamps were destroyed, except for three sets, which were given to the stamp designer, Antonia Graschberger, the head of the Postage Stamp Council, Karl Oskar Blasi, and the Finance Ministry.

But then the stamp printers said ALL the stamps had to be destroyed. Blasi and Graschberger returned theirs, but not the Ministry. It says it can't find them, and says it's not its problem.

"It is really impossible to establish whether these stamps were completely destroyed, and frankly this is the ultimate responsibility of the German postal service," a spokesman told The Times of London.

Now a spokesman for the Federation of German Stamp Collectors, has told the BBC that a collector from southern Germany is in possession of one of the stamps, postmarked in the fall of 2004.

To a collector, one of those stamps could be worth as much as $27,000. All 33 of them are valued at approximately $875,000.

The Hepburn stamp was part of a set honoring film stars, and it wasn't the only problem in the series: The "Casablanca" stamp showing Ingrid Bergman and Humphrey Bogart also had to be replaced, by a stamp showing a roll of film. Hepburn was replaced by Greta Garbo.

Other stamps in the set are Marilyn Monroe, Charlie Chaplin and Jean Gabin.

The whole set, as issued, commands a premium, too.

"It is unique in the postwar history of the German postage stamp that millions of stamps are pulped literally overnight before being sent to post offices," Reiner Wyszomirski, of the German Philatelists' Association, told The Times.

The stamp collector who owns the postmarked variety of this stamp has been identified as Werner Duerrschmidt, a 57-year-old postal work in Bavaria.

He regularly receives used stamps from friends who work at a firm in the northern city of Wolfsburg.

Last September he was puzzled to see the face of Hepburn, playing the vamp with an ultra-long cigarette holder. "I'd never heard of this issue," he told Deutsche Press-Agentur (DPA). "I asked other collectors and they hadn't either."

The stamp is now on display at the Philately and Postal History Museum in Bonn, and Duerrschmidt says eventually, he'll sell it.


---
Virtual Stamp Club Home Page