Growing Up On Tybee Island
By Lloyd A. de Vries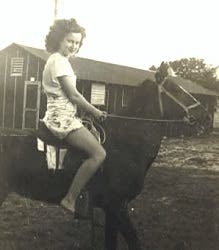 Grace Jackson and friend in April 1940

Grace Jackson Weaver grew up on a stamp.

Well, sort of. She spent ages 5 through 20 living at the Tybee Island Lighthouse, one of the southeastern lighthouses featured on new U.S. stamps.

"Oh, we didn't live in the lighthouse!" she chuckled, but she did live on the island from 1930 until she got married in 1945. Her father was the lighthouse keeper there until his retirement in 1948.

"It was a wonderful place to live, she told The Virtual Stamp Club. "We were right across the street from the beach — it was wonderful. And we had everything. We had our own little world right there. It was wonderful. A great place to grow up."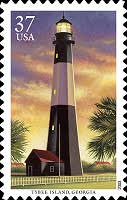 Tybee Island Lighthouse (left - click for a larger view) was built in 1773 on Tybee Island east of Savannah, Ga. This lighthouse continues to guide ships safely into Savannah Harbor. In October 2002, the U.S. Coast Guard transferred ownership of the lighthouse and its grounds to the Tybee Island Historical Society.
All the buildings have been restored, include Weaver's childhood home. The present lighthouse has 178 stairs and a nine-foot-tall First Order Fresnel lens.
"Oh, it's beautiful," she said. "They did a wonderful job."
The waters off Cape Hatteras, N.C., are known as the "Graveyard of the Atlantic," but during World War II German submarines sank so many Allied tankers and cargo ships here that these waters earned a second sobering name — "Torpedo Junction."
However, Weaver didn't see or hear anything about the U-boats until after the war. However, she and her mother volunteered to work on a tower spotting the planes that were flying over the army base.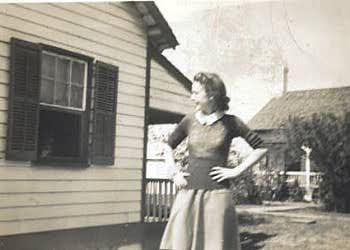 Grace Jackson in 1942

"See, the lighthouse station itself was right in the middle of the army post," she said. "We were surrounded by the army. And they were there 'way before World War II."

About the stamps, "I think it's an honor; I'm so pleased," she told the VSC. "My mother and father both would have been so honored and pleased about that. It's just unreal."

Both her grown sons are stamp collectors — "They're big into stamps." — and Craig plans to produce a first day cover cachet for the Tybee Island Lighthouse stamp. "It's going to have a picture of my father" on it, she said.

And, of course, she'll be buying the new stamps, too.

© 2003 de Vries Philatelic Media.
Photos courtesy Grace Jackson Weaver and the U.S. Postal Service.
---
Virtual Stamp Club Home Page