Click Pictures for Larger View
20th Century Limited: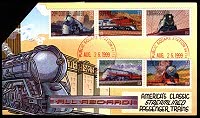 Cartoonist and animated artist Dave Bennett is a Southern Californian now, but he's a native of the Cleveland area, and he picked out Cleveland's Terminal Tower on the 20th Century Limited stamp in the All Aboard passenger trains set (upper left on the FDC) for his cachet.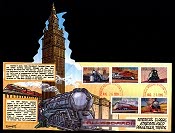 When you open it up, the Terminal Tower pops up over the locomotive. Look closely and you'll see that this particular FDC was serviced not at Stampshow '99 in Cleveland, at which the stamps were issued, but at the downtown Public Square Station -- where the Terminal Tower is.

Celebrate the Century 70's: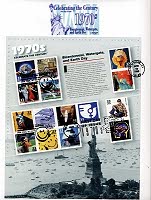 Artmaster produced 9- by 12-inch envelopes for the complete sheets in the Celebrate the Century series. This one was serviced at the New York City Mega-Event stamp show in November, at which the 1970s set was issued. Besides the First Day Of Issue cancellation, it features the show cancellation (the two left-hand blocks) -- which is also a Smiley Face.
(Click here for a detailed view)

Education - Keystone to the 21st Century: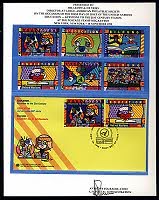 Guests at the first day ceremony for the United Nations' "Education - Keystone to the 21st Century" stamps, held November 19, 1999, at the Mega-Event stamp show in New York City, were given folders containing a mint copy of each stamp (2 each in U.S., Austrian and Swiss currencies) plus an official United Nations Postal Administration first day cover, also designed by the artist, Romero Britto of Brazil.
Click Here More FDC Fun
Lloyd A. de Vries
©1999 de Vries Philatelic Media
---
Virtual Stamp Club Home Page