FDC-Opoly: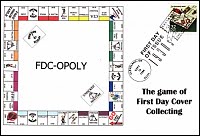 One of the interesting first day covers I picked up at AMERICOVER '99:
Produced by RRAGS, the cachet tradename of Virtual Stamp Club members Becky and Bob Smith, the design on this 5"x7" first day cover features the well-known cachetmakers as the properties; major FDC dealers in place of the railroads, and other FDCiana in other spaces: "Unpicked Mixture," "AFDCS Mailbag," "License Royalty / Pay $100," and "Unannounced Issue / Go Back 8," for example.
The two utilities are replaced by philately's two insurance companies, Collectibles Insurance Agency ("CIA") and Hugh Wood, Incorporated ("HWI").
Now, I know someone will ask: ArtCraft is the cheapest property on the board, Bevil the most expensive. And Dragon Cards isn't listed at all.
Coral Pink Rose 1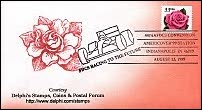 I make available at stamp shows these plain white envelopes with the name of the Forum and its URL printed on them, plus rubber stamps that might make interesting cachets. At AMERICOVER '99, I offered two rose rubber stamps, since the Coral Pink Rose was issued during the show.
Behind the Virtual Stamp Club on Delphi - AFDCS Chapter #84's table in the show's lobby, American First Day Cover Society president Tom Foust - a member of the VSC - was giving a demonstration of airbrushing, the technique he uses to embellish his own cachets. He graciously airbrushed 10 of these in coral pink.
Coral Pink Rose 2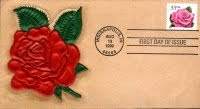 A slab of leather, FDC-size, for the Coral Pink Rose stamp, with the rose hand-tooled into the leather. Only 16 of these were made by Elena Cornejo of Southern California, who hopes to combine her hobbies of leatherworking and FDC collecting. She was represented at AMERICOVER '99 by Florence "Via" Villasenor, a member of the Virtual Stamp Club on Delphi.
Click Here More FDC Fun
Lloyd A. de Vries
©1999 de Vries Philatelic Media
---
Virtual Stamp Club Home Page