Enjoying ArtCraft

Click Linked Pictures for a Larger View



Have you seen the latest ArtCraft cachets lately? They're quite a bit different from the ones many of us remember from our childhoods. They're no longer entirely engraved, but, more importantly, they're also no longer just black-and-white.

I picked up several issues at the ArtCraft booth at Americover 2014.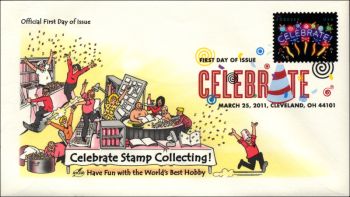 This wonderful Neon Celebrate (Sc. 4502) FDC was produced for the Garfield-Perry stamp show that is held each year in Cleveland, and at which the stamp was issued.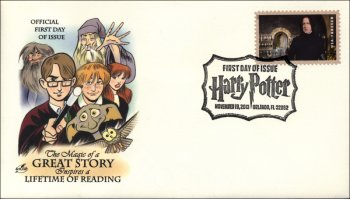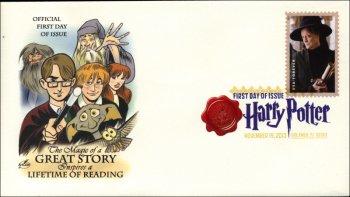 All cachetmakers are running into rights issues, especially as the USPS issues more and more of these commercial, pop-culture issues. ArtCraft avoided the problem for the Harry Potter stamps (Sc. 4825-4844) in late 2013 by designing a generic cachet that never mentions the Boy Wizard and doesn't show the movie actors.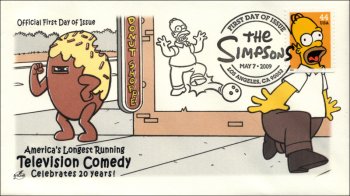 A few years earlier, however, ArtCraft got around the rights issues in other ways for The Simpsons stamps (Sc. 4399-4403). In the above cachet, the stamp completes the picture.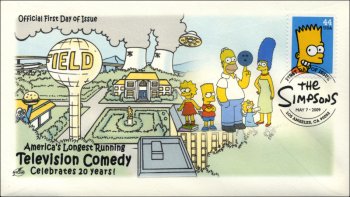 And in this one, look carefully: The Digital Color Postmark completes the picture, showing The Simpsons family, not the cachet.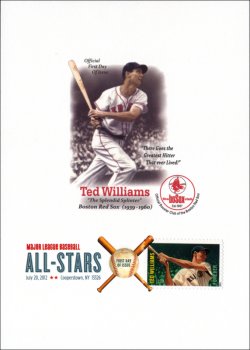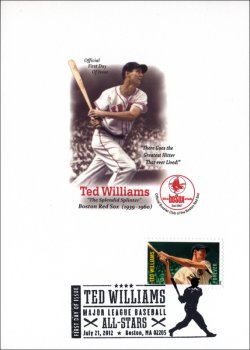 Rights weren't a problem here: ArtCraft produced 5- by 7-inch cards for the Ted Williams stamp (Sc. 4694) on behalf of the BoSox Club. Williams' daughter is on the club's board.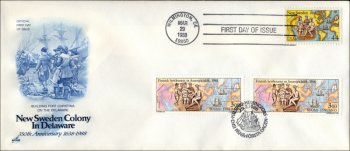 Finally, I also picked up this older #10 envelope ArtCraft FDC, just because I like #10's, and I like dual-canceled joint issues. The U.S. and Sweden in 1988 issued stamps with similar designs to commemorate Swedish settlement in the New World.



Click Here For More FDC Fun





Lloyd A. de Vries
©2014 de Vries Philatelic Media


---
Virtual Stamp Club Home Page