Souvenirs

Click Linked Pictures for a Larger View



Two more versions of the U.S. Postal Service's "A Flag For All Seasons" stamps were issued in as many weeks at two of the major stamp shows of the year: The AVR-printed convertible booklet of 20 at StampShow 2013 and the convertible booklet of 10 at Americover 2013.

I produced a Dragon Card especially for the two-first-days-in-two-weeks event: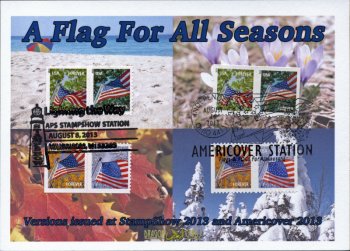 "Cuv Evanson" (Pete McClure) produced a set of non-commercial cachets featuring the flag in his backyard in each season:


Having conquered youth exhibiting, Larry "Malaria Man" Fillion's daughters are now turning to cachetmaking. Their father serviced these first cachets for them at StampShow.

Although she wasn't at the show, Alex Fillion drew her first cachets for the StampShow version of the stamps, which her father serviced. Alex, age 12, produced the Summer FDC; Annika, 11, did the winter one.

Here's an autographed version of the Americover 2013 ceremony program, front and back, and a secret: These 8½- by 5½-inch cards were printed by VistaPrint, the "free" business card people. Chris Lazaroff designed the program, which was sponsored by the Robert C. Graebner Chapter (Washington, D.C.) of the American First Day Cover Society.

Appropriately, first day covers are used as souvenirs of the events at the AFDCS' Americover shows. Here are this year's keepsakes from the President's Banquet and the Sunday evening dinner and talk by a Cleveland historian, plus the FDC given to volunteers at Americover.

One more: A souvenir cover (not a first day) from the Thursday pre-Americover tour, which include a ride on the Cuyahoga Valley Scenic Railroad through the Cuyahoga Valley National Park to Peninsula, Ohio, and back.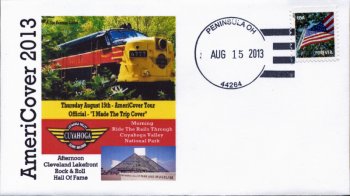 Click Here For More FDC Fun





Lloyd A. de Vries
©2013 de Vries Philatelic Media


---
Virtual Stamp Club Home Page