Souvenirs from AmeriStamp Expo 2011

Click Pictures for a Larger View



The 5-cent non-denominated Art Deco Bird stamp was issued at the American Philatelic Society's AmeriStamp Expo show in Charleston, S.C., so the APS mailed all of its members with U.S. addresses a first day cover like this one. Inside was a pitch for the Mighty Buck Club, which asks members to donate at least $12 (one "buck" a month) to the APS and its sister organization, the American Philatelic Research Library.

The stamp is intended for non-profit organizations' mailings, but because it was a non-profit mailing, though, the FDCs didn't receive a postmark.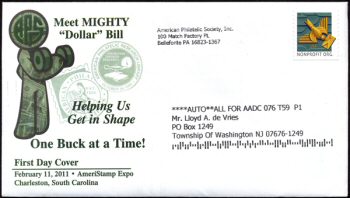 Those attending the APS' Tiffany Dinner on Feb. 10 were given several souvenirs. Among them were a first-day cover of one or more of the Army stamps from the Army-Navy series of 1937 (Sc. 785-9). On the other side of the protective plastic sleeve was a stock card with a mint set of the five Army stamps. Mick Zais, the featured speaker, is a former U.S. Army brigadier general and professor at the U.S. Military Academy (Sc. 789).

But take a careful look at address on this FDC, which purely by chance was left at the (unassigned) the place setting of another Lloyd from New Jersey!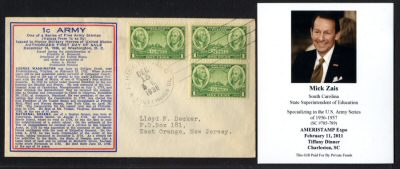 One of the joys of attending a first day is the opportunity to obtain different cancels that aren't readily available to other collectors. Here's one of my Dragon Cards with the AmeriStamp Expo show cancel. The nine stamps were needed to cover the first-class postal rate. I prefer to use only the newly issued stamp on my first day covers, although that became impossible on the second first-day at AmeriStamp Expo...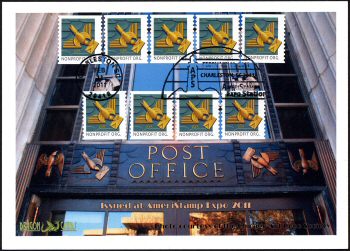 ....there just wasn't enough room to put 22 2¢ stamps on a FDC, even a 5"x7" card. Instead, I used a stamp related by subject, the Indian Head Penny (Sc. 1734), to make the rate. What do you think? Use multiple copies of a new stamp to make the first-class rate, or one or two copies plus other stamps to keep the FDC uncluttered? Give us your opinion in our message board.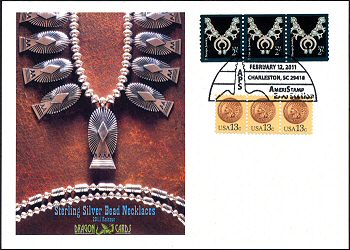 This cachet comes from the ever-inventive mind of VSC member "Cuv Evanson." And what better stamp to make the rate than Tweety & Sylvester, Sc. 3204, which I was able to find easily at face value at one of the show's dealers.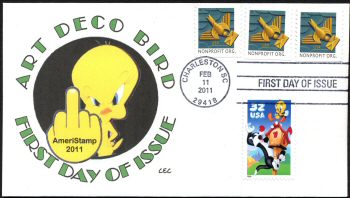 Speaking of Cuv, FDC collectors are infamous for putting stamps and first-day cancels on anything that doesn't move quickly enough. Cuv, who hails from what he calls "Flyover Territory," traveled to a neighboring F.T. state for the Kansas Statehood first-day, and serviced a few coffee mugs.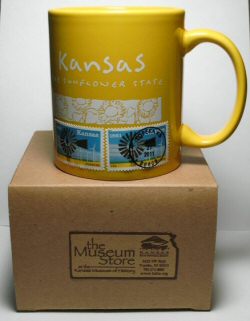 Click Here For More FDC Fun





Lloyd A. de Vries
©2011 de Vries Philatelic Media


---
Virtual Stamp Club Home Page