Click Pictures for Larger View
One of the challenges of rooting through dealer's dollar boxes is finding complete sets. A recent expedition to the NOJEX show in Northern New Jersey yielded these three combination first day covers — but there were five stamps in the Antique Autos booklet, Sc. 3019-23. Will the collector be able to turn up the missing two combos, for 1893 Duryea and the 1899 Winton? And is it coincidence that the three found have the name of the automobile vertically on the right of the stamps, while the two missing have the auto names horizontally under the illustrations?

These cachets are either labels or pasted on. The large script initials "AR" are rubber-stamped on the back, likely indicating the cachet is by Art Rosenberg of Maryland.
Last year's Disney Friendship stamps provided ample opportunities for combos with 1968's Walt Disney stamp (Sc. 1355) — and ample opportunities for copyright infringement. No, we don't know who the artist was for this hand-drawn first day cover, but a notation on the back indicates only 5 were made.

FDC servicers are getting another chance this year with Disney Celebrations
One of the challenges of purchase combination FDCs well after they were produced is trying to figure out what the theme was. Often, it's easy, as for the antique autos and Disney covers shown above. Here, it's bucking horses, using one of the Legends of the West stamps, as well as the earlier Rough Riders and Frederic Remington issues. Again, this is a pasted-on "AR" cachet.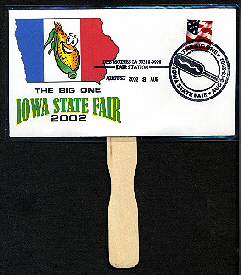 Hot dogs on a stick, chicken fingers on a stick, corn on a stick...cachetmaker and VSC member Pete McClure was so stuck on sticks after a visit to the Iowa State Fair that he created Covers on a Stick. But fear not: The stick is actually taped to the plastic cover sleeve, not this event cover.



Click Here More FDC Fun







Lloyd A. de Vries
©2005 de Vries Philatelic Media


---
Virtual Stamp Club Home Page