Click Pictures for Larger View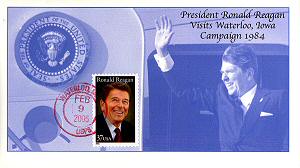 The Ronald Reagan stamp earlier this year went on sale nationwide on February 9. One hour and eighteen minutes after his local post office opened that day, DRC Cachets/Nostalgia Cachets' Rick Chase was offering on eBay the unofficial Waterloo, Iowa, FDC shown at the right.

Less than half an hour later, it was still the only Reagan FDC on eBay, and already had a bid.

VSC member Chase lives in Waterloo and, as mentioned, it was a nationwide release. As a professional news photographer, he had good reason to remember Reagan had made a stop some 20 years earlier there and get a newspaper photo. All that made it easier to get the jump on his competitors. He just went home or to his office from the post office to put together his eBay listing.


| | |
| --- | --- |
| You don't have to fly 5,000 miles to service first day covers — but VSC member Jay Bigalke did! He attended the Lunar New Year first day ceremony in Honolulu, purchased sets of 12 different USPS-serviced FDCs with color cancels, and affixed his FPMG Cachets when he got home. | This FDC has some collectors worried: It was produced by the U.S. Postal Service national headquarters as part of a Black Heritage Cultural Diary. The only way to purchase it is with the entire diary package. Is it the beginning of a USPS entry into cachetmaking on a national basis? Or, at the odd size of 5"x7" and premium cost of the package ($12.95), is it not a challenge to mom-and-pop cachetmakers? |
Canada has produced its own official cachets since the late 1970s, and, while they may have hurt individual cachetmakers and even FDC collecting, they are outstanding: Check out the "OFDC" for the Daffodils stamps, and think spring!



Click Here More FDC Fun


Lloyd A. de Vries
©2005 de Vries Philatelic Media


---
Virtual Stamp Club Home Page