Click Pictures for Larger View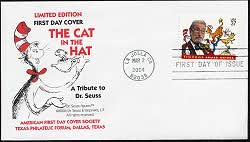 For the Dr. Seuss stamp, there was only one cachet licensed by Dr. Seuss Enterprises: That of the American First Day Cover Society [right]. The agent for the Seuss estate decided to award the rights for a cachet, without cost, only to the not-for-profit AFDCS.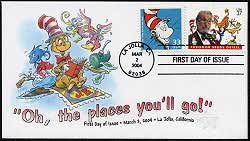 VSC member Jay Bigalke's solution for his FPMG ("Future Postmaster General") Cachets was to ask fellow cachetmaker and VSC member Dave Bennett (of Bennett Cachetoons) to do the art for his FDC. Take a careful look at this cover [right]: That's not the Cat In The Hat, or any other Seuss character on the perforated magic carpet!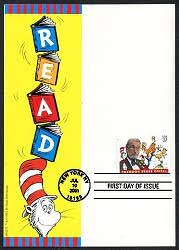 Here's another possibility: VSC member Lloyd de Vries pasted a bookmark he found at a public library onto a 5"x7" card, added the stamp and had the first day of issue cancel tie both the bookmark and the stamp to the card.

Which city will prevail as the most popular postmark among collectors for the Lewis and Clark issue?

The early results suggest the answer is Great Falls, Montana.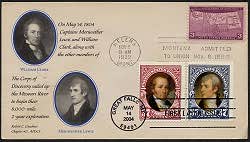 Several of the cachetmakers participating in the NAPEX cachetmakers bourse in McLean, Va., in June said that the Montana postmark was easily their best-seller by mail/Internet of the 11 official first day cities.

A Great Falls first day cover prepared by the Robert C. Graebner Chapter of the American First Day Cover Society is shown here [right]. It employs what had been an uncacheted Sc. 858 Statehood FDC from 1939, with a Helena, Mont., first day cancel — that stamp had four first day cities — with the two prestige booklet Lewis & Clark stamps and a cachet added.

Interestingly, back in 1939, the Montana postmark placed fourth among the four cities.

The VSC's earlier discussion on this is here.


This cover [right] is not a predate, not as we think of the term. The World War II Memorial stamp shown was purchased on the first day, May 29, when the stamp went on nationwide sale.

But the postmark clearly reads "May 28," the day before the stamp was issued.

The Secaucus, N.J., post office clerk at NOJEX, the northern New Jersey show. She forgot to change the date in the postmark before servicing approximately 10 sets of four BGC first day covers.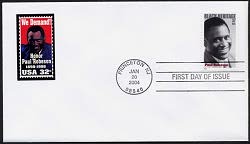 Many people, collectors and not, had hoped there would be a Paul Robeson stamp in 1998, the centennial of the actor-singer-activist's birth. It didn't happen, but as part of the campaign a Paul Robeson "cinderella" (that is, a faux stamp) was produced. VSC member Ken Lawrence used that to produce the FDC shown when the Robeson stamp was finally issued, six years later. [right] Ken was a civil rights worker in Mississippi in the 1960s, by the way.



Click Here More FDC Fun


Lloyd A. de Vries
©2004 de Vries Philatelic Media
---
Virtual Stamp Club Home Page