Click Pictures for Larger View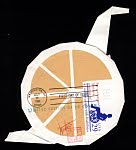 The paper for this origami creation started life as a Disabled Americans stamped envelope (Sc. U629) until cut and refolded by Hideaki Nakano, then given the first day cancellation.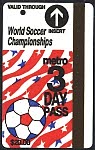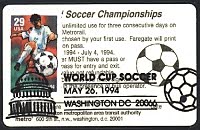 One of the sites for the World Cup in the U.S. was in Washington, and you could get to the matches by taking the Metro subway system. The farecards in use then had a soccer (football) theme, so why not use one for a first day cover? After the stamp and cancel were applied, the card was laminated in clear plastic.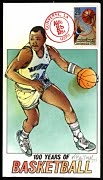 Kendal Bevil is one of the most sought-after hand-painted cachetmakers today. Here's his unofficial from Converse, Louisiana, for the basketball stamp (Sc. 2560) issued in Springfield, Massachusetts, where the Basketball Hall Of Fame is located (and the game was invented at a local YMCA). "Converse" is a brand-name for basketball sneakers.

James Schleyer designed all or almost all the stamps in the Americana Series of definitives in the late 1970s and early 1980s, as well as many of the Transportation Coils. He also quietly produced his own cachets for the stamps he designed. Notice the design elements common to both the stamp and cachet: The same basic schoolhouse design, the lettering that curves around the central illustration.
Click Here More FDC Fun
Lloyd A. de Vries
©2002 de Vries Philatelic Media
---
Virtual Stamp Club Home Page