Click Pictures for Larger View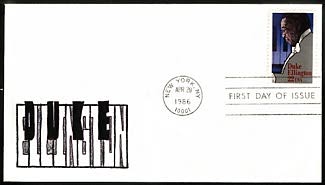 Duke Ellington:
Professional artist Tony Ciccolella's cachets in the late 1980s were always simple yet clever, using a variety of techniques not often seen in cachetmaking. This one employs a marker and crayon. Look carefully at the design: The words "Duke Ellington" form a piano keyboard.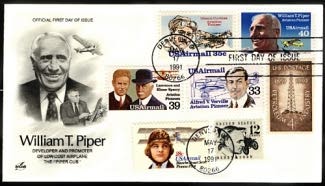 William T. Piper:
A super combination FDC, if I do say so myself. Previous stamps honoring in the series honoring aviation pioneers are included, as well as Petroleum Industry (where William Piper made his fortune) and Henry Ford. Ford? Piper said he wanted to make the private airplane as common as the private automobile, just like Ford's Model T.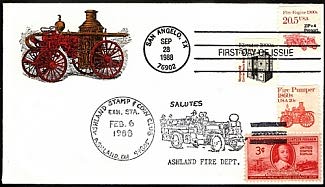 Fire Engines:
This one took advance planning by someone. The lower pictorial cancellation was obtained more than 7 months before the Fire Engine coil was issued, and carefully placed (along with the two firefighting-related stamps) at the bottom of the envelope to make room for the later stamp and cancel. The first class rate at the time was 22c.
Click Here More FDC Fun
Lloyd A. de Vries
©2002 de Vries Philatelic Media
---
Virtual Stamp Club Home Page