Click Pictures for Larger View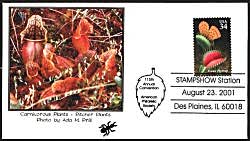 Carnivorous Plants:
An original photo of a carnivorous plant in action, by Virtual Stamp Club member Ada Prill, adorns this FDC, directly printed to an envelope, for the carnivorous plants stamps.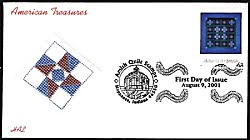 Amish Quilts:
Virtual Stamp Club member Heather Lazaroff spent 2½ hours stitching each of the quilts applied to the cachets of these FDC for the Amish Quilts stamps.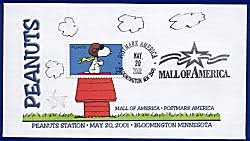 Peanuts:
VSC member Jay Bigalke's Peanuts FDC was canceled for an event several days later at the Mall of America, near cartoonist Charles M. Schulz's boyhoood home in Minnesota. Amazingly, eBay removed a similar FDC by Jay from sale, and United Media protested the cachet, because the syndicate claimed that only Schulz could draw Snoopy's doghouse. Jay copied the doghouse from the Postal Service's sales catalogue, and it's presumed the USPS used Schulz's artwork by permission.
Click Here More FDC Fun
Lloyd A. de Vries
©2001 de Vries Philatelic Media
---
Virtual Stamp Club Home Page