Click Pictures for Larger View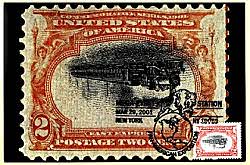 Pan-American Expo Invert:
There's something not-quite-right about this inverted-stamp train maximum. It's the Express Train stamp from the new Pan-American Expo Inverts sheet. There's no other postage on the card. The minimum rate for a postcard is 20 cents, and nothing should be serviced that doesn't meet the appropriate first-class rate.
It didn't occur to me and the clerk didn't say anything about it -- we were both more concerned about where to put the pictorial cancellation and how fast the ink would dry.
Click Here More FDC Fun
Lloyd A. de Vries
©2001 de Vries Philatelic Media
---
Virtual Stamp Club Home Page