Click Pictures for Larger View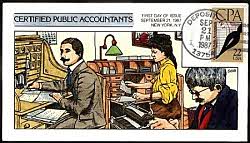 Certified Public Accountant:
Who would have thought? The Certified Public Accountants stamp of 1987 didn't seem as if it would be a popular issue, so many cachetmakers skipped it.
Perhaps the stamp struck a nerve with CPAs and indeed all accountants. Like pharmacists 14 years earlier, accountants may feel neglected, like a profession taken for granted and that doesn't get the respect it deserves.
Today, that stamp catalogues mint for four times other 22¢ commemoratives of that year. First day covers catalogue eight times the value of other single-stamp commemorative issues of the 1980s. And it's hard to purchase either mint stamps or FDCs for that issue at any price.
I remember having a table at a show in a suburban Washington hotel a few months after the stamp was issued, selling FDCs. An accountants group was also meeting at the same hotel, and during a lunch break for that meeting, many of the accountants swept into the stamp show like a horde of locusts, buying up anything and everything with this stamp on it.
This is a Collins hand-colored cachet, with an unofficial-city cancel of Deposit, NY — the stamp was issued in New York City.

Rosie the Riveter: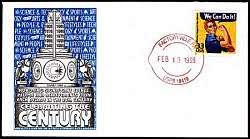 During the 22-year run of GAMM Cachets, the line was known for its inventive unofficial-city cancellations. The Rosie the Riveter stamp comes from the Celebrate the Century 1940s set, issued at Dobbins Air Force Base in Georgia. The cancellation shown here is from Factoryville, Pennsylvania, on the first day of issue — a distance of some 850 miles!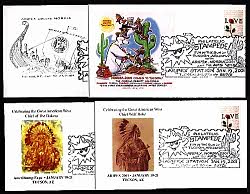 Nordia/Aripex/AmeriStamp:
As mentioned in the February 26, 2001, issue of Linn's Stamp News, the three-in-one Nordia/Aripex/AmeriStamp show in January was a great opportunity to obtain FDCs with official show cachets. Because it was three shows with three sponsors, there were four cachets available.
The cachets included Aripex Salutes Nordia; Nordia 2001, designed by FDC cachetmaker Dave Bennett, a member of the Scandinavian Collectors Club who also designed the show cancel; AmeriStamp Expo, the American Philatelic Society's show; Aripex, the annual show that hosted the event.

Statue of Liberty: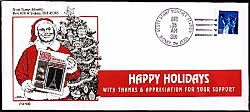 Scott Stamp Monthly sent contributing writers this No. 10 envelope first day cover for the non-denominated Statue of Liberty stamp, which had a nationwide release. To me, Santa in this cachet bears a passing resemblance to SSM editor Peter Martin!
Click Here More FDC Fun
Lloyd A. de Vries
©2001 de Vries Philatelic Media
---
Virtual Stamp Club Home Page