Dead Or Alive?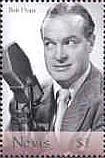 The Caribbean island of Nevis didn't wait until Bob Hope died to issue stamps in his honor. The U.S. will.

---
In August, The Virtual Stamp Club asked Terry McCaffrey, head of stamp development for the U.S. Postal Service, whether ten years after death before appearing on a stamp is a rule or a law.

"It's a self-imposed rule by the [Citizen Stamp Advisory] Committee to avoid being forced to put people on stamps that may not necessarily stand the test of time.

"The concern was that sometimes politicians, because someone dies early...they feel, 'We just need to put them on a stamp,' and then 10 years later, they're not as popular or prominent as you would have thought.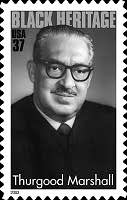 "So it's a self-imposed rule. Sometimes it's very difficult for us to maintain that rule because, for instance, with Bob Hope, we all know that Bob Hope, and Katharine Hepburn and Gregory Peck, all three who've died in the past number of months, all are certainly deserving of stamps and will probably end up on a stamp on their tenth anniversary or shortly after that.

"So it is difficult. We had that problem with Thurgood Marshall also: The minute he died, the Committee said 'We need to do a stamp for him, but we're going to have to wait 10 years.' Because once we break that rule, we'll never be able to go back again."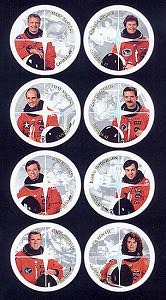 In a VSC message board discussion about the October 1 Canadian Astronauts stamps, Canada Post spokeswoman Cindy Daoust explained:
"While it is true that Canadian stamps do not honour living persons, with exception of the monarch, Canada Post has issued many stamps picturing living people. The astronauts stamps referenced in this posting are commemorating the Canadian Space Program and decades of Canadian achievements and presence in space. For this issue, the best way to illustrate our impressive space record was to use images of our Canadian Astronauts. Similarly, stamps honouring the annual NHL All-Stars Games, also often picture living hockey heroes. Hope this clears-up this issue."
What do you think? Take our poll and join in the discussion.

---
Virtual Stamp Club Home Page