Equal Time Demanded For DC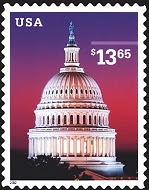 There's a move to issue a District of Columbia or Washington stamp, and Stamp Development Chief Terry McCaffrey says the USPS is exploring the possibility, after a push by the District's delegate to Congress, Eleanor Holmes Norton.

DC's delegate to Congress can vote in committee but not in full votes of the House of Representatives. The District has no representation in the Senate at all.

McCaffrey said he has met with Norton, but the issue is still not resolved.

Norton issued a press release calling for a "D.C. Travel And Tourism Stamp" on the day the 34¢ Greetings From America stamps were issued, and has written (or had written for her) a column on the subject on her Web site. Both are in following messages in this thread.

The problem, says the Postal People, is that if the District of Columbia gets its own stamp, what about the five territories, such as Guam and Puerto Rico? If Washington gets its own single-design sheet of stamps, then the states will demand their own single-design sheets.

McCaffrey told philatelic reporters that he has pointed out to Norton that there have been 52 stamps honoring sites in Washington, DC, but she is holding out for a "federal city" stamp.

"Particularly after the mail brought anthrax to the nation's capital that cost the District millions of dollars in lost revenue from travel and tourism, the Postal Service has an obligation to find a way to correct this outrageous oversight to its headquarters town," she said in the press release.

She also said she has been assured by the USPS' head of government relations that the Postal Service "is now discussing how they will do it."

"We simply will not tolerate a celebration of our nation's states that excludes the nation's capital, especially after what September 11th and the anthrax tragedy did to the economy of this city," Norton said.

In a May 2002 column on her Web site, Norton said announcement of the stamp will come soon.

"We're not likely to break Congress' 200 year habit of second class treatment unless we demand equal treatment every chance we get," she wrote.
---
Virtual Stamp Club Home Page