Moon, Space Shuttle, Holocaust
A new stamp and souvenir sheet from the Czech Republic honors a young Holocaust victim's hopeful drawing that was carried into space on the ill-fated Columbia space shuttle.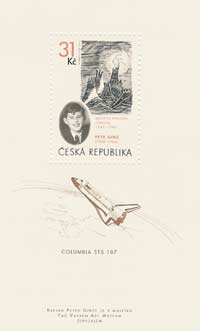 Courtesy Czech Post
Click on this picture for a much larger version.
---
The design features "Moon Landscape," a small black and white pencil illustration that shows the Earth as seen from the moon with sinewy peaks rising from the lunar surface.

It was drawn by Petr Ginz, a teen who drew it before his death at Auschwitz.

Israel's first astronaut, Ilan Ramon, the son of a Holocaust survivor, took a copy of the drawing with him on the flight. The space shuttle broke apart during re-entry on February 1, 2003, killing all seven astronauts on board.

The date of the disaster happened to be Ginz's birthday. He would have been 75. He died in 1944 at the age of 16.

The 31 koruna ($1.34 U.S.) stamp also features a black and white portrait of Ginz, a multitalented teen who wrote stories, poetry, painted and edited a youth newspaper. He drew the illustration in the Theresienstadt ghetto in 1942.

The museum has nearly 100 paintings by Ginz, a Jew, who was born in Prague in 1928.

Some stats from Czech Post's website:
Date of issue: January 20, 2005
Face value: 31,00 CZK
Printing sheets: A1
Size of the stamp: 26x40 mm; 76x116mm
Graphic Artist: Pavel Hrach
Engraver: Václav Fajt
Method of printing: recess print from flat plates in black combined with coloured offset
Subject of the stamp:

Petr Ginz (1928-1944) was born in Prague to a Jewish family. Already at the elementary school he proved to be a universally talented boy who contributed to the school magazine. On 24.10.1942 he was deported to the Terezín Ghetto where he continuted writing articles and drawing pictures which were saved thanks to his friend who survived the nazi terrors. His pictures are deposited in the Yad Vashem Art Museum in Jerusalem. The stamp shows the famous Ginz's pen drawing "Moonscape" with a view of the Earth from the Moon. The tragic fate of Petr Ginz, who died in the autumn of 1944 in Auschwitz, sadly continued in the crash of the rocket plane Columbia STS 107. The Israeli astronaut Ilan Ramon took with him into the space a facsimile of this pen drawing in the desire to fulfil after 58 years P. Ginz's dreams. However after 16 days of space research the lives of all 7 astronauts ended with a disaster on the landing manoeuvre on 1.2.2003 which was also a culmination of the emotional fate of the Ginz's drawing.


---
Virtual Stamp Club Home Page