The "Cat" Is In The Bag

Watch for another big push from the Postal Service when "Dr. Seuss' The Cat in the Hat" opens next November just before Thanksgiving. Universal Pictures has announced an extensive, wide-ranging list of promotional partners for the Universal Pictures/DreamWorks Pictures/Imagine Entertainment film presentation, and the U.S. Postal Service is one of them.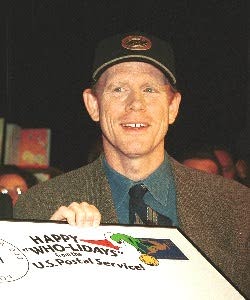 Director Ron Howard and a number of cast members of the recent holiday film "The Grinch Who Stole Christmas" -- another Seuss book -- helped kick off National First Book Day at the New York Public Library in November 2000. Howard also was made "honorary Postmaster General" by the postmaster of Springfield, Mass., Dr. Seuss' home town, and a representative of the New York district of the U.S. Postal Service, and wielded the first of the special "Whoville" postmarks that were used in the 2000 holiday season.
Howard is not involved in this film, but his producing partner Brian Grazer is the producer of "Cat." The title character is Mike Myers, and the film also stars Alec Baldwin, Kelly Preston, Dakota Fanning, Spencer Breslin, and Amy Hill. The director is Bo Welch, and it is scheduled for release on November 21, 2003.
"We are thrilled with the level of innovative marketing partners who have aligned themselves with this event film and we are confident that consumers will enjoy the imaginative nature of the products which will be available at retail this holiday season," said Beth Goss, executive vice president, The Brand Group, Universal Pictures.
The promotional campaigns for "Grinch" was not the first time the Postal Service honored children's author Seuss. "The Cat In The Hat" was the subject one of the 1950s stamps in the "Celebrate The Century" series in 1999.
Another upcoming film is about a stamp scam. See details here.
---
Virtual Stamp Club Home Page