Cabot Joint Issue A Challenge for FDC Collectors, Servicers
---
(Updated text....and now the Italian Cabot stamp illustration and a hi-res view of S&T Cachets Cabot FDC)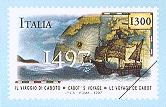 Cachetmakers and FDC collectors who want to service dual-canceled first day covers for the Canadian and Italian John Cabot stamps issued June 24 may be better off sending their covers to Italy than to Canada. In response to a query I received, Jim Phillips, Manager of Stamp Marketing for Canada Post tells the Virtual Stamp Club FDC servicers can buy each country's stamps from CPC and affix them, but Canada Post will not be canceling the Italian stamp or affixing it. "We don't affix anything we don't cancel," Phillips said. "We never affix other stamps or cancels [for joint issues]."
However, the agency will be selling the Italian stamp, probably at $1.25 Canadian and probably in quantities as low as one. There is a 50c handling charge on orders smaller than $5. Phillips says the telephone order-takers at the philatelic center in Antigonish (1-800-565-4362) won't need an item or catalogue number.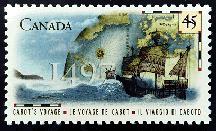 For first day cover servicing, the agency charges 5c if the stamps are affixed by the customer, 20c if Canada Post must affix them.
Canada's first day cover servicing grace period is one month.
Canada Post also plans to sell its own first day covers for this issue: With just its stamp at 75c each, or dual-canceled FDCs with both stamps and cancels at $2.00. All prices given are in Canadian dollars.
Canada Post is only receiving a limited number of the Italian John Cabot stamps, and Phillips recommends collectors order the stamps as soon as possible; both may sell out. Also, Canada Post's policy is to service individual and smaller orders before large commercial ones.
A better solution might be to purchase the Canadian mint stamps from Antigonish, affix them, and then send the covers to Italy for servicing there. Poste Italiane's director of its philatelic service, Maria Ciraci, told Delphi at Pacific 97 that her agency will sell, affix and service both country's stamps at no additional charge. The Italian denomination is 1300 lira (about $0.76 US) and Poste Italiane will sell the Canadian stamp for 650 lira (about $0.38 US, versus 45c Canadian or 33c US from Canada Post).
The address for philatelic orders from Poste Italiane is Ufficio Principale Filatelico, Via Mario De Fiori, 103/A, 00187 Roma, Italy. The telephone number from the U.S. is 011-39-6-59-58-3692 or -8039 and its fax number is 011-39-6-59-17-403.
Payment for the stamps as well as return postage should accompany the FDCs, using either International Reply Coupons or international money orders.
---
Virtual Stamp Club Home Page