Cary Grant First Day Ceremony
(Click Pictures for a Larger View)
The ArcLight Cinema at 6360 W. Sunset Blvd played host to the debut of the new Cary Grant postage stamp Tuesday, October 15. As attendees entered the ceremony, enlargements of the entire series of the Legends of Hollywood stamps were on display. Ceremony programs were controlled tightly and limited one per person. Approximately 200 people were in attendance for the event.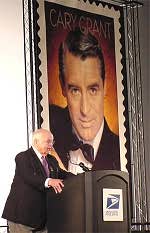 Honorary Mayor of Hollywood Johnny Grant (left) served as the Master of Ceremonies. He introduced the Hollywood High School Junior ROTC that presented the colors and Songwriter, Producer, and recording artist Freddie Gorman, who sang the National Anthem. Gorman is the former postal employee who wrote the song "Please Mr. Postman."
Johnny Grant then introduced the honored guests, including stamp illustrator Michael J. Deas and numerous postal service officials. After introducing everyone, Grant commented that "it makes you wonder who is delivering the mail today."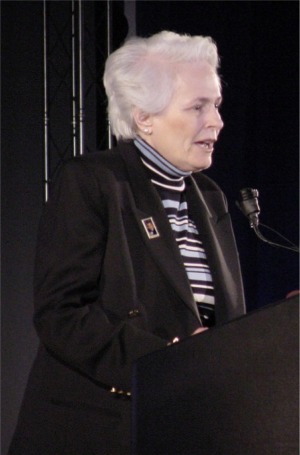 Director and CEO of the American Film Institute Jean Picker Firstenberg (right) talked about Cary Grant's career and that when she met him, it was her moment of weakness. "He was never less than wonderful."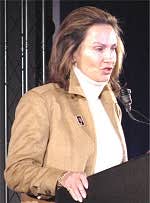 Widow Barbara Grant Jaynes explained that he was born Archibald Leach in Bristol, England and in the 1920s that Cary moved to the United States. "At that time he started to call himself Cary Grant. It wasn't until 1942 when he became an American citizen that he legalized the name. So all the people who have come up to us and said that they're related to him because the name is Grant unfortunately missed the boat."
USPS Pacific Area Vice President Al Iniquez thanked Firstenberg and Johnny Grant for everything that they have done for Hollywood. Earlier in the ceremony, Johnny Grant thanked Iniquez for helping get a postmark for Hollywood. However, after the ceremony they were disappointed to see that the First Day of Issue postmark read "Los Angeles, CA 90001."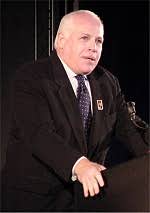 Postal Service Board of Governors Vice Chairman S. David Fineman (right) dedicated the new Cary Grant stamp, calling it a "handsome and revered tribute" and that "[Cary Grant] will long be remembered for his charming and sophisticated manner in his many roles on the silver screen."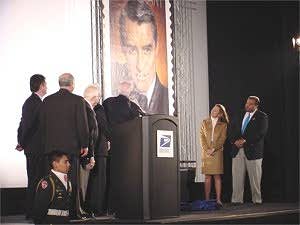 An eight-minute tribute film was played following the unveiling of the stamp. It showed highlights from numerous Cary Grant movies. It was narrated by actor/producer Patrick Curtis, best known for "Room for One More."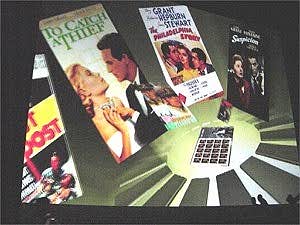 The ceremony participants were kind enough to stick around to sign autographs and lapel pins were handed out as attendees left the theater. The first person in line to purchase the stamps and in the autograph line was yours truly.
It is always enjoyable to go out to California to a stamp ceremony, as the members of the Ries Chapter of the AFDCS are so kind and fun to be with. Following the ceremony we went to a local restaurant which was simply wonderful. We even had birthday cake as October 15th was Ron Sobel's birthday (a fellow VSC member).
Overall I had a splendid time in Hollywood, even though I was there for less than a day, and I am looking forward to possibly attending the Audrey Hepburn ceremony there next year.
Jay Bigalke
©2002 Text and Photos
---
Virtual Stamp Club Home Page