It Ain't So!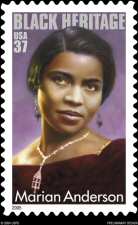 Rumors of the demise of the U.S. Black Heritage stamp series are greatly exaggerated — and completely untrue.

"It's almost like a bad dream. It keeps waking you up," USPS Manager of Community Relations Cynthia Puryear, told The Virtual Stamp Club.

"The Postal Service will continue to honor African-Americans on stamps. We have never even considered stopping," she added.

Puryear said she first encountered the myth back in 2000.

"Someone, I guess, was just having an interesting day. They start this e-mail rumor, and here we are five years later, still dealing with it," she said.

Puryear points to the dozen 2005 stamps featuring Black History subjects: Marian Anderson (issued in late January as part of the Black Heritage Series), Arthur Ashe (to be issued this summer, not as part of a series), and a sheet of 10 stamps called "To Form A More Perfect Union," which will note 10 major events in the civil rights movement, 50 years after the struggle began:
The end of segregation in the military through Executive Order 9981;
The Supreme Court ruling on Brown v. Board of Education, which ended segregation in public schools;
The Montgomery Bus Boycott, following Rosa Park's refusal to give up her bus seat to accommodate a "whites only" rule;
The Little Rock Nine as the first blacks to attend a previously "whites only" high school;
The lunch Counter sit-ins in which blacks sat at "whites only" lunch counters until the businesses integrated;
The Freedom Riders who tested a Supreme Court ruling that outlawed segregation at bus stations and terminals;
The March on Washington, where a quarter million Americans witnessed Martin Luther King's "I have a Dream" speech;
The Civil Rights Act of 1964 that prohibited discrimination in public accommodations such as hotels, restaurants and theaters;
The Historic 50-mile, five-day march from Selma to Montgomery, Alabama, where 25,000 people petitioned the governor to end discrimination; and,
The Voting Rights Act of 1965 that strengthened the federal government's ability to prevent local and state governments from denying citizens the right to vote because of their race.
"In fact, not only do we have 5-6 African Americans available right now on stamps, we've already selected our next year's honoree that we'll be announcing later next year," Puryear said, although she declined to tell The VSC who the 2006 Black Heritage subject will be.

Puryear said she has no idea what revived the rumor this time, but "normally around Black History Month, that's when this e-mail rumor always resurfaces."

Around mid-February, the Postal Service began to receive messages asking about it. "At the same time, we also start getting a lot of media inquiries ... and that's when I realized just how bad it had gotten out of control again."

The series is a moneymaker for the USPS.

"We have a very strong constituency" for Black Heritage stamps, and there have been many occasions where these stamps have sold out, Puryear said.

"It's very alive, it sells very well, it's here to stay, and it's not going anywhere."

The interest in the stamp series is understandable.

"For African Americans, this is what they can come and say 'Hey, our people are now recognized on stamps,' whether it's an African-American or Hispanic or what have you, and it's another way that minorities have an opportunity to excel and be recognized nationwide by being a part of history on a stamp," she said

It's not just customers, Puryear told The Virtual Stamp Club.

"The Postal Service has a very diverse group of employees, a very large number of minorities, as a matter of factor, who are not only employees but are also collectors," she said. "They have a great appreciation for these stamps.

"I myself like them because they teach me so much about Black History, and it's not just me, it's many employees who appreciate what they learn behind these stamps," said Puryear, an African-American herself.

Listen to the Audio.

Join the VSC Message Board Discussion


---
Virtual Stamp Club Home Page