Irving Berlin First Day Ceremony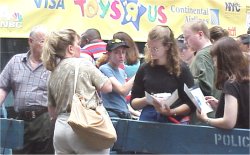 Scheduled for 11:15 a.m. in Times Square, the first day ceremony for the Irving Berlin stamp actually got underway at 11:22, although about 11:17, a pre-recorded announcer, in the first of many technical glitches during the entire Broadway On Broadway event, said, "Ladies and Gentlemen, a member of the U.S. Postal Service Board of Governors -."

Before the ceremony got underway, New York City USPS press representative Pat McGovern handed out first day ceremony programs to those in the front section of the general viewing area, the group right in front of the stage. I doubt if very many of the programs were obtained by collectors.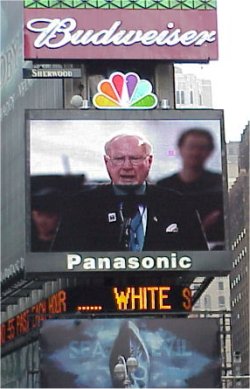 The program contains a two-sided two-color insert depicting the stamp and, on the back, a biography of Berlin. The stamp and cancel were on the inside cover of the generic folder, not on the insert. Of the three participants listed, only one, Postal Gov. John Walsh, appeared at the dedication. Jed Bernstein, president of the League of American Theatres and Producers, and Tim Tompkins, president of the Times Square Business Improvement District, did not participate. (As late as Friday afternoon, the Postal Service people could not tell me who other than Walsh would participate.)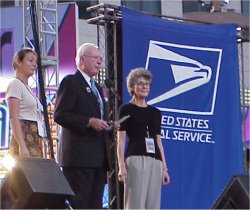 However, both Berlin's daughter Linda and his granddaughter Caroline were there. Only Walsh spoke, and in him, the USPS could not have chosen better. He seemed fairly at ease speaking to the crowd of perhaps 50,000, without a podium. (Believe me, speakers like to hold onto a podium.)

Walsh told the audience he could think of "no better opportunity than right here, right now with all of you" to dedicate the stamp.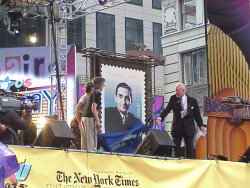 Then came a sing-a-long for "God Bless America," although the orchestra got off to a rough start. Walsh motioned to the audience to participate, and the words were flashed on the giant screen on the building behind the stage (as well as at least one other ancillary screen further up Times Square).

In an interview afterwards with the Virtual Stamp Club, daughter Linda called it "very, very moving, very, very exciting" to have a stamp issued for her father, "in part because it's such a beautiful stamp."

She said the Broadway On Broadway celebration was "a perfect place for it because it has such impact.

"I think it would have really pleased him that the stamp was unveiled here," she said.

Below are more pictures from the ceremony:

first day ceremony program insert for the Irving Berlin stamp: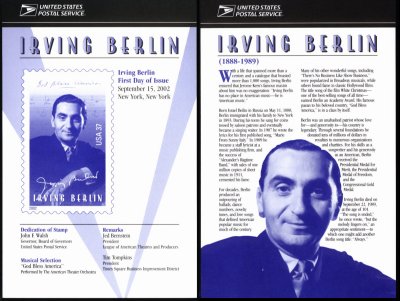 Click on either half to get an enlargement of that side. As mentioned in the previous message, the stamp and first day cancel were on the left inside cover of the generic first day program folder.

---
Virtual Stamp Club Home Page