Next Year's U.S. Stamps Now
With press reports, leaks, informed guesses and sometimes just common sense, Virtual Stamp Club members have been trading information in our Message Board about next year's U.S. stamp program.
We'll know most of the program for sure at the end of August, but here's what we've got so far:
Traffic Safety (AAA Centennial)
Spay & Neuter Your Pets
West Point Bicentennial
Black Heritage (this will be the 25th in the series)
Nature of America
Semi-Postal (charity stamp)
American Treasures
Lunar New Year - Year of the Horse
Christmas (secular and religious)
50-state something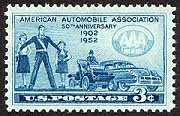 The Traffic Safety stamp was revealed by member "Kernoff." The U.S. issue a stamp honoring the American Automobile Association's 50th anniversary in 1952 (right), but the U.S. Postal Service now doesn't like to honor specific organizations. Instead, it honors their causes.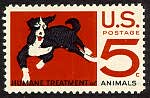 The project coordinator for getting a stamp told supporters of the Prevent A Litter Coalition in e-mail that she had been successful.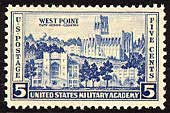 The U.S. Military Academy stamp was announced on the site detailing plans for the USMA bicentennial next year.
Bowing to pressure from Congress, the U.S. Postal Service announced in January that it would issue five more semi-postal stamps over the next 10 years. 2002 is the first year of that decade.
A Virtual Stamp Club poll in late January showed many of our members (42%) did not want more U.S. semi-postal stamps. Notwithstanding that survey, the U.S. Postal Service moved ahead with plans, announcing the subject selection criteria in June.
In 2000, the USPS decided not to issue new Christmas stamps, and you should have heard the howls! Even then-President Clinton got into the act. So we feel it's a pretty safe bet that there will be new Christmas stamps in 2002.
As reported in our Message Board last January, "The Citizen Stamp Advisory Committee, in its meeting on Thursday-Friday, approved [issuing] a pane of 50 state-related stamps...but the exact subject hasn't been announced." Our members seem to support the idea, as evidenced in a that began in April.
We'll try to keep this list updated, but the first news — both before and after the official announcements — will show up in our Message Board.
Stamp Scans Courtesy of Dick Stine
---
Virtual Stamp Club Home Page