Download this report as an MP3 sound file.



Here We Go Again

The Stamp Collecting Report, I'm Lloyd de Vries.

Remember the Statue of Liberty stamp that wasn't? Nearly three years ago, the U-S Postal Service issued a stamp showing what it thought was the monument in New York Harbor. It turned out the photo was of a REPRODUCTION in Las Vegas.

Now, the creator of that Vegas version is suing the postal agency for copyright infringement. His attorneys say his statue is more feminine, more fresh-face and more "sultry" than the original... and he's owed money.

The Postal Service obtained the photograph, and the rights to use it, from an agency. Yes, it chose a photo of the wrong statue, but it thought the agency was taking care of the rights.

A few months ago, the artist who created the Korean War Veterans Memorial in Washington won a settlement from the Postal Service of more than half a million dollars, for depicting his statue on a stamp... even though the National Park Service purchased the monument. You see, it didn't purchase the COPYRIGHT.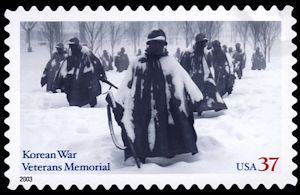 Shouldn't a nation's postal agency be exempt from this sort of thing? And ... remember when being on a stamp was an HONOR?

I'm Lloyd de Vries of The Virtual Stamp Club. For more on stamps and stamp collecting, visit virtual-stamp-club-dot-com.

----------------------------------------------------------
Go to Previous Report
Go to Next Report

Go to Report Index



Return to Virtual Stamp Club Home Page